We work wherever it makes sense.
We are flexible when it comes to selecting our place of work. Nevertheless, we believe it is important to have a place where we come together in order to collaborate on joint projects, exchange information or simply spend the lunch break together.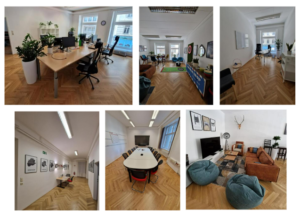 Our offices are centrally located in the 1st District, at Wipplingerstrasse 20,
and they were renovated only recently. We think the result is impressive.
Your working day at SINN will be characterised by …
… variety. As an international full-service provider we are constantly taking on exciting projects for well-known customers across a variety of industries and countries.
… respect. We have a policy of being friendly towards colleagues and we are all on informal terms with one another. For us the focus is on expertise – not job titles or levels of a hierarchy.
… trust. We rely heavily on personal responsibility in the allocation of work and time and with our hybrid work concept you are flexible and free to work at different locations, for example in the office, at home or on the move.
… further development. We offer a working environment with a future and perspectives, plus opportunities for personal further training and certification in various fields.
… fun. We don't just work as a team, we also have fun together. At company celebrations, staff days or special events. But in everyday situations, having lunch together, drinking coffee or pursuing funny break activities.